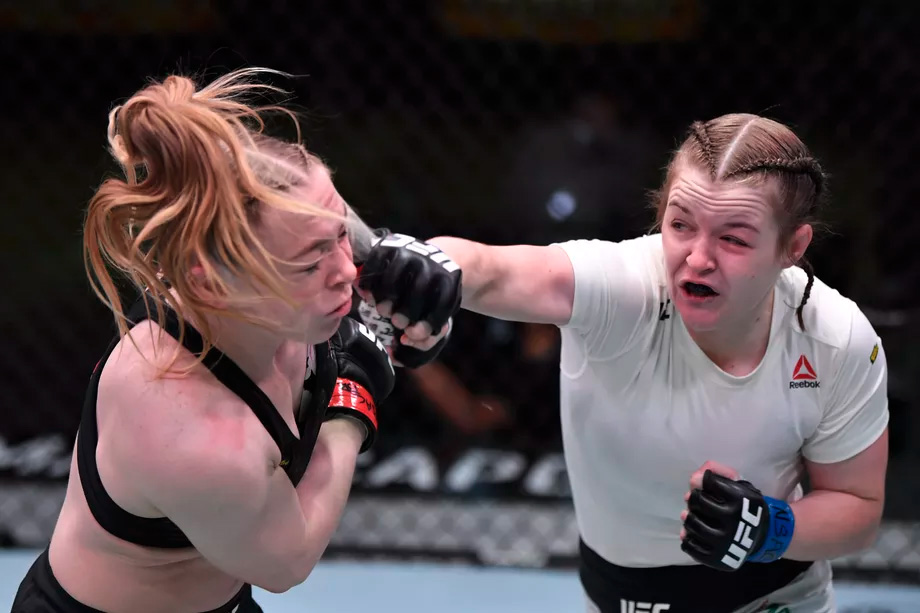 UFC Vegas 14 results: Cory McKenna Wins on her UFC debut!
Cory McKenna had to endure a true back-and-forth battle in her octagon debut but she will leave Las Vegas with a win after edging out a split decision over Kay Hansen at UFC Vegas 14.
Over the course of three rounds, the 21-year-old newcomer showed an impressive striking arsenal along with a gritty attitude that allowed her to stay out of trouble on the ground whenever Hansen turned to her wrestling. It was a razor-close fight in the end but the judges gave her the nod with all three scorecards reading 29-28.
"I thought I did enough," McKenna said about her win. "Kay's an amazing fighter. It was a great fight. I expected the best version of her coming into it."
The strawweights were more than happy to exchange heavy leather throughout much of the opening round with McKenna connecting with some solid combinations showcasing fast hands and technical prowess on the feet. Hansen countered late in the opening round with a hard knee that connected on McKenna from inside the clinch before taking the fight to the ground.
Once the action hit the mat, Hansen moved quickly to take McKenna's back, although she ran out of time before she could seriously threaten with a submission.
Hansen continued to ramp up the pressure as the fight moved forward while displaying an aggressive striking attack and then turning back to her grappling, While it appeared that McKenna was in a bad spot momentary, she continuously worked her way free until actually reversing positions to put Hansen underneath her as the Welsh prospect began peppering away with punches from the top.
With five minutes remaining, Hansen turned back to her grappling in an effort to secure the win and she nearly managed a late arm-triangle choke before the final horn sounded. Despite that effort, McKenna was constantly throwing punches and doing as much damage as possible from the bottom.
She even managed another reversal to close the fight on top as the judges saw enough to declare her the winner.
McKenna now moves to 6-1 in her career after earning her UFC contract following a win on Dana White's Contender Series. While she limped out of the octagon with an ankle injury, McKenna sounded confident that she'll be able to return to action sooner rather than later as she looks to continue her climb up the strawweight ranks.
Source: www.mmafighting.com